We earn your trust as we manage your technology by providing outstanding service. Choosing Repeat Business Systems means you are choosing a company obsessed with creating raving fans. We do this by delivering an outstanding service experience.
One Call
You business needs the latest technologies to run efficiently. You need a partner that can handle hardware, software, and cloud services. The challenge is that most technology providers only focus on one aspect of technology. When something goes wrong you end up with a vendor that points fingers while your business comes to a grinding halt. When you partner with Repeat Business Systems, you get a partner that supports your entire technology infrastructure, from your copiers and printers to software and cloud services. One call can take care of it all.
Personalized Support
When you call Repeat Business Systems you won't be redirected to a support center in another state or country. You'll be speaking to a support team that is located right here in upstate New York. Then, we'll dispatch a friendly, well trained technician to your office.
Proactive Response
The best way to fix a problem is to solve it before it happens. You'll love our proactive approach to service. We monitor your devices remotely so we can identify issues early on. For example, with your printers and copiers we notice when toner is running low and automatically ship new supplies directly to your location. For devices like desktops and servers, we proactively install software and security updates. All of this ensures your business stays productive, avoiding frustrating downtime.
Fast Resolution
When there is an issue, our goal is to solve your problem quickly. Our team of local field technicians will come directly to your office. Since we invest heavily in training, you can be confident that your problem will be resolved by someone that knows what they are doing. Plus, we make sure our technicians are equipped with the tools, parts, and knowledge to resolve the issue on the first visit.
Service Awards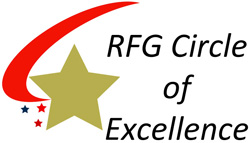 Our service not only gets noticed by our clients who consistently give us great references, it has also been noticed by our industry partners. Repeat Business Systems has been recognized as a RFG Circle of Excellence Certified Dealership. Not only did we receive the Prestige level Service Engineer Skills Assessment, we also received top ratings for our Service Operations Assessment. All of this translates into excellent support for your company.
Repeat Business Systems has a system to capture customer feedback after each service call. Last year, over 3,000 surveys were sent. RBS has consistently received a Net Promoter Score of over 95% www.netpromoter.com.
Get Great Support
To experience Repeat Business System's legendary support, contact us today at info@rbs-usa.com. We'd love to get to know you!