The Best Printers On The Market
Printers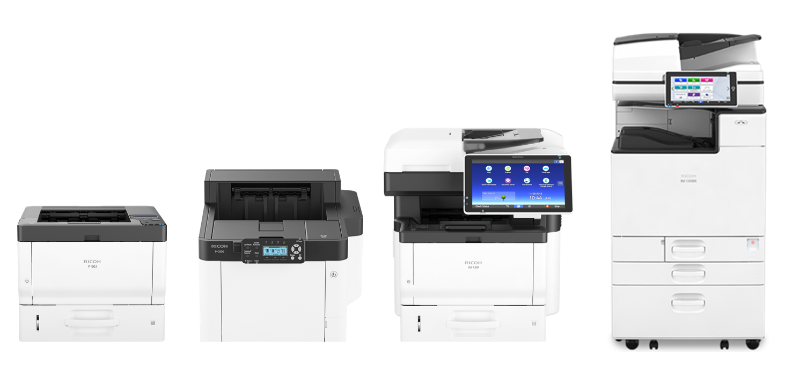 Printers form the foundation for critical business processes. Whether you are printing key business documents like invoices and statements or simply printing out a proposal for a sales presentation, you need printers that are dependable, productive and cost-effective.
Dependable Printers
Business-grade network laser printers provide dependable, consistent output. While it may be tempting to buy low-cost personal printers, these systems usually disappoint in the real world. Plus, the supplies for these "low-cost" devices often end up being more expensive than the systems themselves. You can look to us for productive, business-class printers that can handle the demands of daily use.
We sell and service Ricoh and hp printers too!
Ricoh offers some of the best top of the line printers in the industry. Always Current Technology is one reason that Ricoh devices stay on top of their game. Ricoh offers a wide range of device software add-on options that will allow us to "customize" your device.
Some folks really love their hp products and we want you to be happy with the products that you're familiar with. We not only sell the full lineup of hp printers, including A4, but we also carry hp OEM toner and cost-saving compatibles. We don't stop there. We also service hp printers!
Color Output
You can get amazing color printers with high-speed output. This allows you to portray a professional image on all of your documents. For example, you can print invoices with your logo and a color promotion. You can print training presentations or promotional materials on demand as you need them.
Managed Print Services
If you're like most companies, you already have a fleet of printers. However, you don't really know what they cost to operate. And, your staff has stockpiled thousands of dollars in print cartridges. What you need is a Managed Print Services (MPS) program. The professionals at Repeat Business Systems can help you manage your entire fleet of printers, ensuring supplies are delivered, as well as proactively addressing support issues. More>>
Printers are an important part of your business. To learn more about how Repeat Business Systems can help you select, implement, and manage the right printers for your organization, contact us today at info@rbs-usa.com.